Hazrat Abbas Ibn Ali occupied the Euphrates and lodged a bravery and loyalty: Maulana Shirazidi Najafi
Aligarh: For example, this year also last year, a gathering was held in the Zahra Bagh Civil Lines Aligarh in Bakri, the residence of Saqlain Abidi Jalalvi, in the memory of martyrdom Karbala. A meeting was held in Sujkhani Sabet Haider Abidi Jalalvi, Muhammad. Assad Abdi and his supporters did. Maulana Shiraz Zaidi Najafi addressed the Majlis in his speech while talking about the honorable Imam Hussein and Gyan Mubarak, mentioned the greatness and prowess of the businessman Wafa Hazrat Abbas Ibn Ali and described their virtues and misery. On hearing this, the audience started shouting.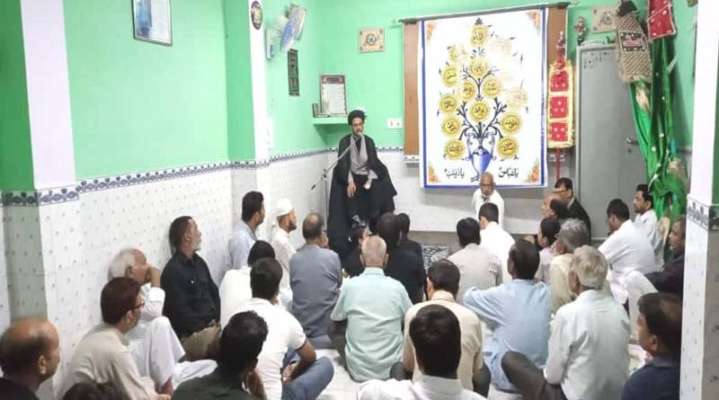 Maulana said, "Abbas Ibn Ali was his own example in loyalty. He called Imam Hussein all the time as a master. History has witnessed where the best scholars of his time are recognized." Their bravery was unmatched there. In the field of Karbala, they captured the Canal Euphrates with great satisfaction to Musk Sakina.
He did not even drink water until his faithful horse touched the water. When you filled the canal with the canal, the forces of Yazid escaped and attacked both of your cheats. After your martyrdom occurred and Imam Hussein said, "O brother, your death broke my back. You were so loyal that no wrongdoer in your life had the courage to attack Khayyam Hussein. By preserving the example of loyalty in history by preserving jam martyrdom in the field of Islam, and preserving the religion of Islam.
The people who were recovered from Abbas arrived at Bargah Hussein Zahra Bagh Civil Lines Aligarh through ancient routes in the form of procession. In the procession, Nuha Khwani Muzaffar Hussain Muzaffar Nagri, Jafar Irani, Shahzib Abdi, Bilal Abidi and Safdar Zaidi alias Fakhri. Maulana Saeed Akhtar Kazmi, Maulana Ahmad Raza, Maulana Doctor Asghar Ijaz Sethi Jalalpuri, Maulana Zahid Hussain Rampuri, Maulana Ikram Hussain Jafri, Mansif Abdi, Haji Akbar, Akhtar Hussain Abdi Jalalvi, Nayab Hussein Abbasi and Ali Nabi Hassan Abbadi. Attended