Jamitul Ulama Delegation meets with Home Minister Amit Shah, discusses these issues including Kashmir and NRC
A delegation of Muslims under the leadership of Maulana Qari Syed Muhammad Usman Mansoorpuri, President of Jammu Ulema, met Indian Home Minister Amit Shah at his residence Krishna Menon Marg today and discussed several important issues facing the nation and the nation. The delegation included Qari Usman, General Secretary of Jamiat Ulema Hind, Maulana Mehmood Madani, Amir Jamiat Ahl Hadith Hind Maulana Asghar Ali Imam Mehdi Salafi, Mufti Muhammad Salman Mansourpuri Member of the Assembly Jumla Ulema Hind, Maulana Niaz Ahmed Farooqi, Secretary, Jamia Ulema. Al-Haq Osama Kanpur President Ulema Uttar Pradesh, Maulana Hafiz Pir Shabbir Ahmed Hyderabad, Shakeel Ahmed Syed Member of Parliament Jumma Ulema Hind, Maulana Hafiz Nadeem Siddiqui President Jumma Ulema Maharashtra, Maulana Mozaldin Ahmed, Maulana Yahya Mohri Mohafi Mohri Mohf Moab, Mufti Mufur Mubat, Mufti Farooqi Mumbai was involved.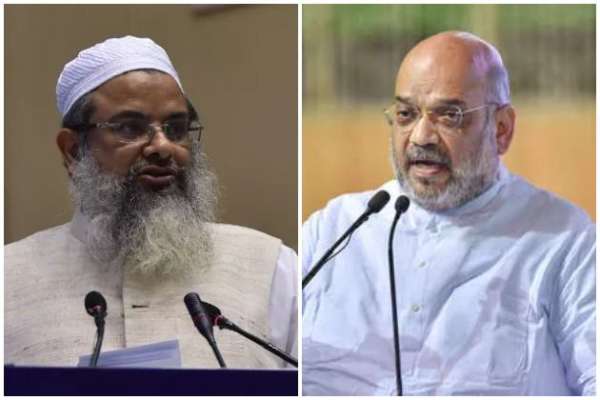 During the meeting, Maulana Mahmood Madani, General Secretary of Jammu Ulema-India presented the Hindi version of the proposal adopted in the recent meeting of the Joint Ulema-e-Hind, and said that the Governing Committee of Jammu Ulema-Hind is comprised of members from all parts of the country. Leading the Muslims of every province. Maulana Madani said that although we have many differences with the government, but where there is a matter of national interest, we will stand with the country. That is why our management committee has clearly stated in the resolution on Kashmir that Kashmir and Kashmir are all ours. We cannot separate them and Indian Muslims are against every kind of separatism and the Jamiat Ulema has already been supportive of a united India.
After hearing the delegation's words, Home Minister Ummah Shah said that we believe that eliminating Article 370 is in the interest of Kashmiris; it was a loss to the Kashmiris rather than benefit, which they also gave many examples. However, he assured that this would not allow the civilization of Kashmiris to be affected. The interior minister added that there are 196 police stations in Kashmir, only 144 of them are implemented, no curfew, only 14 police stations have curfew imposed at night, as far as mobile phones are concerned, this is the reason. Social media is propaganda by Pakistan. The kind of inflammatory content being posted poses a serious threat to law and order, but we have alternatively arranged for a landline phone and anyone can access the service within six hours. ۔ In addition, we have deployed a thousand PCOs so that people can contact, but in a remote area, there is a little trouble, schools have been opened, but we do not oppress people. The Home Minister said that the situation was getting normal and we are working hard for it.
"There is no need for people to be alarmed in relation to the NRC. In Assam, we have issued a circular saying that if the name is not included, we will officially release it for the people," he said. Will provide free legal service and we will also bear the cost of having a lawyer own a lawyer. We ask that you go to Assam with a delegation of four or five people and investigate the whole matter.
He said that as far as NCR is concerned all over the country, tell any country in the world where there is no NCR. We do not aim to harass minorities, we will ensure that no one is harmed on the basis of religion. As far as infiltration is concerned, we are determined to take action against them. People should understand that this is a country problem and this step is necessary to protect the country.
Regarding the amendments to the UAPA Act, the Home Minister said that whatever law is enacted, it has been considered to not be misused, there are strict conditions. The Home Department praised the gathering on the formation of the Sada-e-Naha Committee and said that it should continue its efforts. There is a great need for dialogue in today's era.
Maulana Asghar Imam Mehdi Salafi, the Emir of Jamiat-e-Hadith-e-Hind, told the Interior Ministry that we believe in dialogue and bilateral dialogue and we want the problems of the country, especially the minorities, to be solved in this way. The Home Minister said that we are ready to speak openly with all Muslim organizations.