Deepak Chahar who scored a hat trick in 3 days
Thiruvananthapuram, Nov 12 (IANS) Deepak Chahar, the middle-order batsman of the Indian cricket team, continues his form with a hat-trick in T20 cricket for the second time in three days.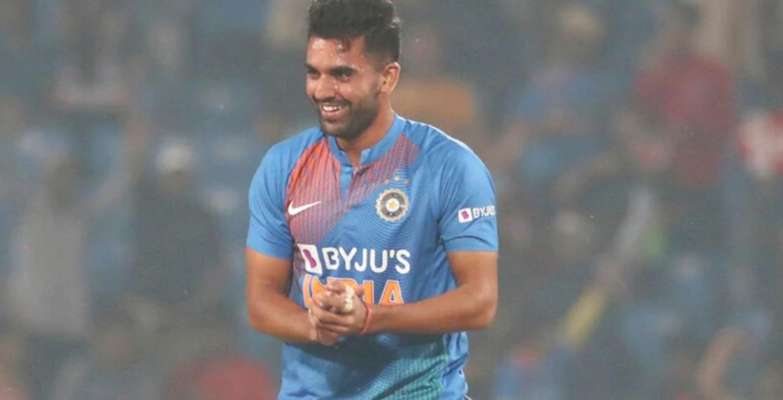 Rajasthan bowler Deepak Chahar, who scored his first hat-trick in the Twenty20 International match against Bangladesh in Nagpur on Sunday, once again scored a hat-trick in the Syed Mushtaq Ali Twenty20 domestic tournament. He took 6 wickets for 7 runs against Bangladesh.
The match between Rajasthan and Vidarbha was reduced to 13 overs. The Rajasthan team, led by Deepak Chahar, restricted Vidarbha to 99 for the loss of 9 wickets in 13 overs.
Chahar had bowled three overs. One of which was a maiden over. He got a hat-trick in the final over. He took 4 wickets. In the final three balls, three batsmen scored a hat-trick by pushing the batsmen to the pavilion.
Vidarbha made 93 in 5 overs for the loss of 12 overs. Chahar, who was attacked in the 13th and final over, showed Rishabh Rathod (0) a pavilion on the first ball. In the 4th over of the same over, Darshan Nalcande (0) returned on the way. Srikanth Wagh (13) took wickets in the 5th over. Chahar scored a hat-trick in the 6th over with Akshay Wadkar (0) bowling without opening an account. With this, Deepak Chahar took 4 wickets for 18 runs in 3 overs.
Rajasthan were bowled out for 107 in 13 overs to win by 8 wickets as VJD's rule was reduced to 1 for 1. Deepak Chahar hat-trick managed to keep Vidarbha under control but Rajasthan could not win. Maninder Singh contributed 44, Ankit Lamba 15 and Arjit Gupta 12. Akshay Waqre took 3 for 15 and declined to victory for Rajasthan.