Shiv Sena's new twist - now demand to make Uddhav Thackeray as Chief Minister
Movement intensified to form government in Maharashtra
Demand for Shiv Sena MLAs- Uddhav becomes CM
Earlier there was demand for Aditya Thackeray
So far, churn is going on in Maharashtra. Earlier, there was a verbal war between the Shiv Sena and the Bharatiya Janata Party, now the stir has intensified for the BJP-Shiv Sena-NCP-Congress to form the government. On Sunday, a meeting of party legislators was held under the leadership of Shiv Sena chief Uddhav Thackeray, but something new happened this time. In the meeting, there was a demand to make Uddhav Thackeray as the Chief Minister, whereas earlier the Shiv Sena was continuously asking to make Aditya Thackeray as CM.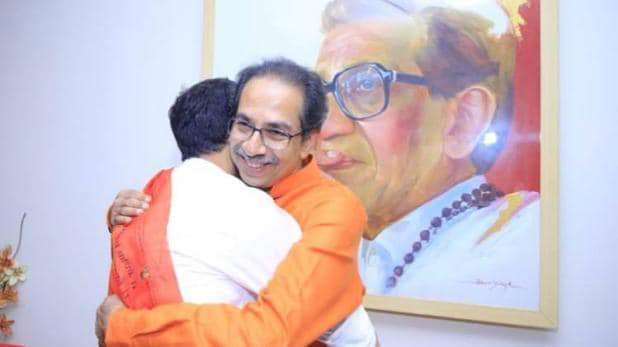 Demand of MLAs - Uddhav becomes Chief Minister
Shiv Sena MLAs are staying at Hotel Retreat in Mumbai, where Uddhav Thackeray arrived on Sunday to meet everyone. When Uddhav reached the meeting, he was accompanied by his wife. When the meeting started, the MLAs started voicing their opinion on the formation of the government and this time the demand started to make Uddhav Thackeray not the Aditya but the Chief Minister.
Uddhav met the MLAs in the hotel
Prior to this demand that arose in the meeting, posters were also pasted on the streets of Mumbai demanding that Uddhav be made the chief minister on Sunday itself. Shiv Sena supporters outside Uddhav Thackeray's residence 'Matoshri' have demanded that Uddhav Thackeray be made the Chief Minister.
ANI
4
@ANI
Maharashtra: A poster which reads 'Maharashtra needs Uddhav Thackeray (Shiv Sena Chief) as CM' has been put up outside Matoshree (Thackeray residence), in Mumbai.
View image on TwitterView image on Twitter
189
12:54 PM - Nov 10, 2019
Twitter Ads info and privacy
69 people are talking about this
Did not agree on Aditya's name?
There was an ongoing debate with the Bharatiya Janata Party on behalf of the Shiv Sena for the post of Chief Minister. There was a demand from Shiv Sena supporters that this time Shiv Sena should be the CM, in the meantime, posters and statements were being seen in support of Aditya Thackeray. However, now suddenly, leaving behind Aditya's name, no concrete reason has been given as to how Uddhav Thackeray's name came to the post of Chief Minister.
The Shiv Sena was constantly telling the BJP that it could form a government without it. In the past, soft statements were also being made by the Shiv Sena for the Congress and the Nationalist Congress (NCP). In such a situation, it is also being felt that something is being cooked between the three parties for the formation of government.
Significantly, since the election results in Maharashtra, there was a verbal war between the Shiv Sena and the BJP. The Shiv Sena demanded that the cabinet be divided under the 50-50 formula, including the post of Chief Minister. Uddhav Thackeray himself said in the press conference that he had promised Bala Saheb Thackeray that one day he would be the Chief Minister of Shiv Sena.